October 16, 2020
When costumes are made, pumpkins are carved, and Monster Mash is on repeat, you know it's finally that time of year … spooky season's #1 holiday. Halloween! Whether you're whipping up dinner for the fam or concocting something magical for a get-together, we have three adorable and delicious Halloween appetizers to try. 
Spooky Sliders
While these beef sliders are small, they offer big visual impact. All you need to do is prepare a classic American slider, carve triangle eye holes in the upper bun, and top it with the stem from a green bell pepper. So delish, your guests will be goblin them up!
Want to level up your slider game? Try Grillin' with Dad's Juicy Lucy recipe.
Prep Time: 5 minutes
Cook Time: 10 minutes
Total Time: 15 minutes
Servings: 4 (8 sliders)
Ingredients
1 tbsp salt
1 tbsp pepper
1 tbsp Worcestershire sauce
4 slices American or cheddar cheese, halved
8 slider-sized buns
Optional: lettuce, tomato, and onion
Directions
Preheat grill to medium-high heat.
In a bowl, combine grass fed ground beef, salt, pepper, and Worcestershire. Adjust seasoning, if needed.
Separate the beef into 16 equal parts, flatten them out, and put a slice of cheese in the middle of eight of them.
Cover with the other eight patties and pinch the ends.
Grill burgers over direct, medium-high heat, flipping once until desired doneness is reached, approximately two minutes each side for medium. Alternative: In a medium skillet over medium-high heat, sear the burgers two minutes on each side.
To finish the burger, place the patty and additional toppings on the bun. 
Mummy Dogs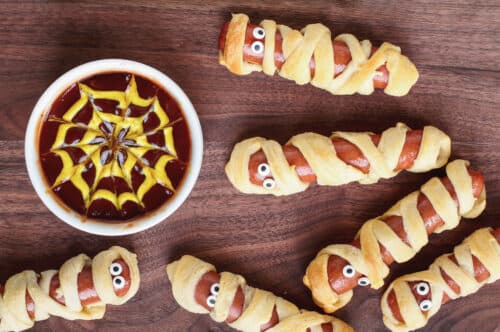 This recipe is a kid's trifecta: cute, funny, and includes hot dogs—our 100% grass fed uncured beef hot dogs, in fact. If you can't find the candy eyes used in this recipe photo, dots of mustard work just as well to create that haunting stare. And, a ramekin filled with a ketchup and mustard spider web is a be-witch-ingly adorable addition.
Recipe via Home Made Interest.
Prep Time: 15 minutes
Cook Time: 12 minutes
Total Time: 27 minutes
Servings: 6
Ingredients
Directions
Preheat your oven to 375 degrees F.
Open the dough and cut into 1/4-inch strips (a pizza cutter works well!)
Wrap the dough around the hot dogs to form criss-crossing bandages.
Bake for 10-12 minutes, remove, and let cool for those using their fingers to eat.
Jack-O'-Lantern Cheesy Beef Taco Dip
Knock, knock—it's the perfect hot taco dip, all dressed up for Halloween. Simply remove the Jack-O'-Lantern face for tailgating, family parties, you name it. This dip is super filling, so you won't have to worry about guests leaving hungry.
Recipe via Best Recipe Box.
Prep Time: 15 minutes
Cook Time: 15 minutes
Total Time: 30 minutes
Servings: 8
Ingredients
Dip:
1 tbsp olive oil
4 green onions, chopped
7 oz canned diced green chiles
2 tbsp chili powder
2 tsp ground cumin
1 tsp paprika
1 jalapeño, minced
1 cup mayonnaise
8 oz cream cheese
1/2 tsp sea salt, or to taste
8-12 oz shredded cheddar cheese, divided
Tortilla chips for serving
Jack-O'-Lantern face:
3 tortilla chips for eyes and nose
1 jalapeño for stem
Sliced black olives for teeth
Directions
Preheat oven to 375 degrees F. Set aside about a half cup of shredded cheddar cheese, which is for the topping. Remaining cheese is for the dip.
Heat pan on medium high, add oil, and cook grass fed beef until brown. Add green onions, green chiles, chili powder, ground cumin, paprika, and jalapeño. Cook for about one minute until combined.
Add mayo, cream cheese, salt, and remainder of the cheddar cheese. Turn heat to low. Stir for about two minutes or until cheese is completely melted. Use paper towels to blot any excess grease released from the beef.
Transfer dip to a round eight-inch baking dish. Top with remaining cheddar cheese.
Bake for 10-15 minutes or until the top layer of cheese is melted and dip is bubbly.
Make Jack-O'-Lantern face by using three tortilla chips: two for the eyes, one for the nose. Lay black olives to make the teeth and add jalapeño stem on top. Serve with tortilla chips.
Now that you have our scary-good Halloween appetizers on your menu for guys and ghouls of all ages, check out the rest of our blog for recipes, cooking tips, and more!
Happy Halloween!